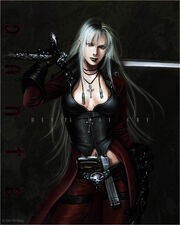 Sinfulwolf is one of the many regulars at the
Everything Else
section of the forum, she also writes a few stories down at the
Blank Page
, and well as being its librarian.
Her signature on the forums is a photoshopped image of a female version of Dante from the Devil May Cry series. The shop was done by her wife Slyfox.
Her works include the forum based war fiction Lurker Wars 2, and a running vampire series with multiple entries including Blood of the Damned and War of the Damned. She is also planning a full length story based on her oneshot St. Michael's Seraphim.
She's strongly opinionated and serious at most times, also not a big fan of internet memes.